Flyer/Ad Guidelines
As a REALTOR®, you represent the face of the real estate industry by conducting yourself in an ethical and professional manner. However, there are serious, yet common reoccurring issues pertaining to advertising. The issue stems from REALTORS® not presenting a "true picture" in their representation to the public. Article 12 addresses truthfulness in statements and advertising. Article 12 states, "REALTORS® shall be careful at all times to present a true picture in their advertising and representations to the public. REALTORS® shall also ensure that their professional status (e.g., broker, appraiser, property manager, etc.) or status as REALTORS® is clearly identifiable in any such advertising." (Amended 1/93) For more information on Article 12, please visit the legal section of CAR's website.
The applicable standards of practice are:
Standard of Practice 12-4 REALTORS® shall not offer for sale/lease or advertise property without authority. When acting as listing brokers or as subagents, REALTORS® shall not quote a price different from that agreed upon with the seller/landlord. (Amended 1/93)

Standard of Practice 12-7 Only REALTORS® who participated in the transaction as the listing broker or cooperating broker (selling broker) may claim to have "sold" the property. Prior to closing, a cooperating broker may post a "sold" sign only with the consent of the listing broker. (Amended 1/96)
What's wrong with this flyer?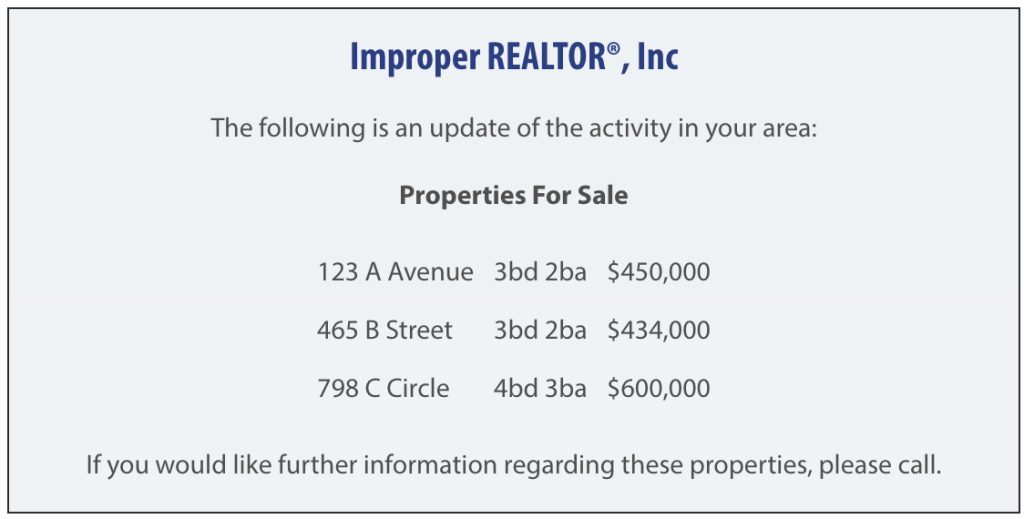 Correct Flyer Examples
Note: Above is an example of a safe flyer, because no street address is used.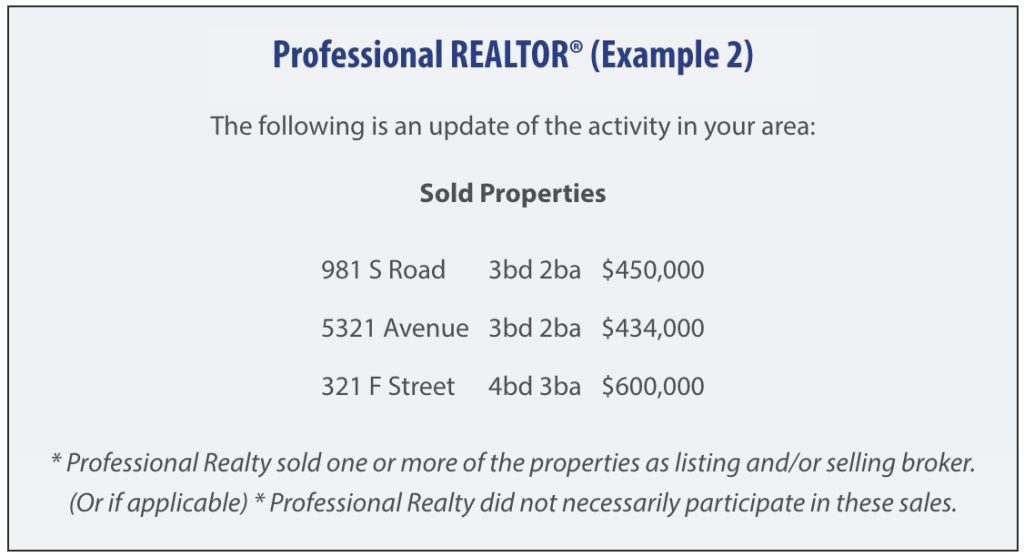 Where do I need to display my license number?
The California Department of Real Estate (DRE) issued revised draft regulations clarifying SB 1461, the State law that requires real estate licensees to include their license numbers on all "first point of contact" materials.
View this chart for more information or call the DRE's Enforcement section at (877) 373-4542 if you have questions.
Local Real Estate Sign Laws
Please view this table for local jurisdictions' sign laws.